Writing original content helps roofing contractors gain traction within search results. In this article we will discuss why this works, and how to make it happen within your own website.
Roofing Contractors should update Their Website Regularly and Blogging is an Easy Way to Make this Happen:
This will keep your website fresh and relevant to search engine crawlers which are constantly updating. Blogging is an easy way for roofers to make sure that they have new content on a regular basis: all you need is a blog post template (which is included with every site we build) and then you just fill in the blanks with your content.
Here are some other reasons blogging is an easy way to keep roofers' websites up to date:
– Blogging engages site visitors and nurtures relationships with prospects, customers, and potential leads;
– It's a great way for roofing contractors to share their expertise and knowledge with their prospects, customers, and leads;
– Blogs allow roofing contractors a way to build credibility in the eyes of consumers.
We suggest that all our clients blog on at least a monthly basis, but weekly is even better.
Great Blog Posts don't have to be Complicated:
Blogs can be as simple or complicated as you want to make them. If this is a new blog for your roofers, then we recommend starting out with something easy to write about like the weather, current events and other things that are happening in general around the world.
If You Want Your Blog Post To Be Effective:
– Include a catchy title : this will help with SEO optimization and make it easier for people to find your blog post;
– Include an introduction paragraph that tells the reader what they're about to read:
– Share statistics, trends or other data from inside of your company's industry. This can be helpful for prospects looking to learn more about roofing contractors;
– Share your best roofing contractor quote or saying. This will give people a personal touch and show them that you care about the industry in general.
You can also share some of these blog post ideas:
* What is Happening at Your Company? (this includes new hires, changes to company policies, etc)
* What is your Favorite Part of the Job?
* How to Pick the Right Roofing Contractor (this will include some helpful hints about what questions you should ask or how to spot a good roofer)
Don't forget to end strong with something powerful. This could be an interesting statistic, quote or even asking people to call or email you with their roofing concerns.
Information About Your Roofing Projects Make for Great Blog Posts:
If you have a new roofing project that is on the horizon, then this can make for an excellent blog post.
You'll want to start by sharing what type of materials will be used in your roofing job as well as how long it typically takes from planning phase to completion. You may also want to share some pictures or drawings of the final product.
This can be a great opportunity to show your roofer's expertise and knowledge, as well as share some helpful tips about how to best prepare for when you need new roofing work done on your property.
Highly Visible Roofing Projects Deserve Prominent Placement On Your Website:
We always recommend that roofing contractors promote their latest and greatest projects on the home page of their website. This ensures that these will be visible to people looking for roofers in your city or town, which is what you're trying to do with SEO optimization. Promoting your company is much easier if you are doing projects that are immediately recognizable, and your potential customers will be more likely to hire you if they see local businesses they recognize using you for their expensive properties.
Not Quite Ready to Blog Yet? Let Us Do it For You!
RoofWebs also offers this service as one of our ongoing SEO packages. If you have questions, we'll be happy to discuss your needs and work with you to get your site off the ground and climbing in the rankings. Call us today for more information.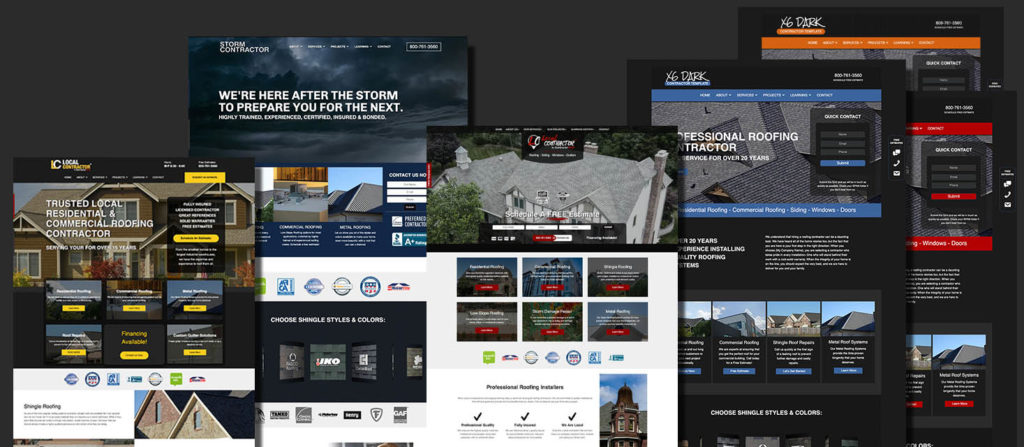 As RoofWebs celebrates 15 years serving contractors, we are releasing a number of new templates for our…