SEO scams are all over the web, and it's important to know what they are, and how to avoid them. Otherwise, your business will be misled down a wrong path which won't lead to success in search engine rankings. Here are 16 common SEO scams to avoid:
1. Press Release Distribution Scams – Many roofing companies use press releases to attract new visitors, but this tactic is typically ineffective unless you're using the right company to do your distribution. It's a good idea to check out any distributors that you may be considering before signing on for long-term service by reading some reviews and seeing what others have to say.
2. Link Farms – A link farm is a site that has been set up with hundreds of inbound links to point back at a single web page/website. These sites typically do not offer content that is useful or helpful for the visitor, but they will incorporate specific keywords into their sites that are related to your niche/industry. These sites can actually help you to get a better ranking in the search engines, but will do so temporarily. Eventually the search engine will detect that there is something suspicious about the site and remove any links or page authority.
3. Article Marketing Scams – Many companies offer article marketing as a way to get free traffic, but this may not be the best option for your business. When you write an article and submit it to a few article directories, these articles are typically syndicated all over the web and don't always contain quality content.
4. Scrape/Duplicate Content – Your site could lose its rankings if search engines discover that you are using duplicate content from other sites. There's also a chance that your server could get penalized by Google if they detect duplicate content.
5. Blackhat SEO – If you're looking to be banned from search engine results pages, then this is the way to go. Blackhat is considered spamming and will only end up hurting your website.
6. Spam Comments – This is another method that a lot of blackhatters use to try and improve their rankings in the search engines, but this will only hurt you in the end. Make sure that you aren't using any spam or automated comments on your blog posts if they come from multiple IP addresses or are left within a very short amount of time.
7. Article/Content Farms – This is another type of site that article marketing companies will use to get you to write content for their website, and the majority are not going to be beneficial for your rankings or profits. They require an excessive amount of user generated content in order to keep ranking well in the search engines.
8. Buy Cheap Links – Another bad option since the links will not last very long and are never going to be beneficial for your rankings in any search engine. It's important to use natural, high quality links that were earned rather than purchased by paying for them.
9. Blog Commenting – This is another way to get natural links back to your website, but you should never use automated software of any kind for this. You should always have a human being leave comments on other blogs since they are going to be more beneficial and will most likely be enjoyed by the readers of the blog as well.
10. Keyword Stuffed Title Tags – You should never try to stuff multiple keywords into your title tags since this could lead to a penalty from the search engines. It's also important that you don't mix up keywords and make them sound natural, like this: Dallas roofing company roofing services roof repair roof replacement .
11. Keyword Stuffed Body Copy – If you start to see multiple keywords in your body copy, then you most likely will be penalized by the search engines. It's important that all of your content is written for humans rather than search engine robots since there needs to be a good flow and sound natural as well. You should never have entire paragraphs with just one keyword being repeated over again either.
12. Over Optimization – You should never try to over optimize your entire website with keywords or keyword phrases since this is going to seem unnatural and may lead to you being penalized by the search engines. It's also important that you don't use any spammy sounding links in your anchor text either.
13. Keyword Stuffed URLs – This is another big mistake that companies make when trying to rank their websites. It's best to include your keyword in your URL, but not overstuff it and try to shove every word possible into the link.
14. Keyword Stuffed Home Page Content – The home page of your website has a lot of weight behind it in terms of SEO and will most likely have the highest link juice. It's important that you use your target keyword phrase somewhere on the page, but don't overdo it.
15. Hidden Keyword Links – You should never try to place links in a way that is not visible to visitors of the website since this could be considered manipulation by Google or another search engine.
16. Hidden Text – There is nothing worse than someone trying to hide something on a website, and it goes the same for your website. You should never try to use any keywords in text that is very small or hidden on purpose. This kind of information won't be seen by humans, but search engines can still pick up on it if you use the wrong type of code to trigger them.
Summary:
Done Properly, Your Roofing Company SEO Efforts Can Pay Dividends:
You need to have a keyword strategy and know exactly where your roofing website is going to rank for certain keywords before writing any content for your roofing website. You can get started by analyzing your roofing website's current positioning in the search engines and find out exactly how many visitors are coming to your roofing website for each keyword that you want to rank well for.
SEO is not something that can be done overnight, but if you take the proper steps and continually improve on it every few months, then you could see some positive results with your roofing company's website. Be sure to track those results and repeat what works without duplicating content.
And if you have any questions, let us know. We are happy to help.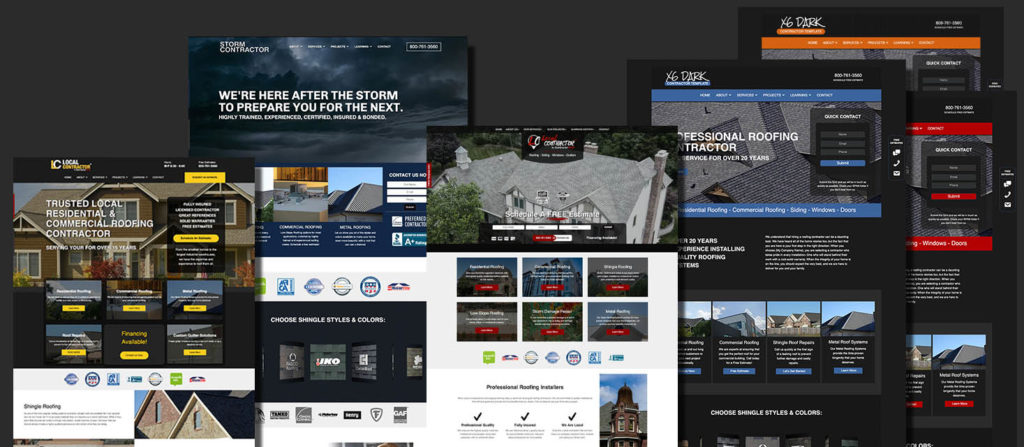 As RoofWebs celebrates 15 years serving contractors, we are releasing a number of new templates for our…